Blog Series "Sustainable Events": No. 1 – Falkensteiner Hotels
we hope you had a pleasant holiday and arrived back home in good health without any major delays and with all your luggage.
Even we tauleos had some time off this summer for the first time in years. So, to make good use of it, we were jumping at the chance to start a long-cherished plan: a mini-series of newsletters and blog posts on the topic of sustainability with a focus on ecological projects in the event industry.
In this series, we will present ecological resorts and generally explore the question of how environmentally friendly hotels can be. We also present sustainable programmes, activities, food concepts, restaurants and which eco-friendly giveaways are trending right now.
We explain which eco-labels exist in tourism and what they are worth. We also show how the ecological footprint of an event can be calculated and discuss in which version of CO2 compensation can make sense – or whether this is not always just pure greenwashing.
In keeping with the holiday season, we would like to start our sustainability news with an especially extraordinary hotel project* in Croatia – where the idea for this mini-series originated, the outstanding…

During a fam trip to the Punta Skala peninsula, our general manager Martin Lukes was told in an aside that the hotel draws all of its water needs from a seawater desalination plant, has its own sewage treatment plant, the meeting rooms all feature daylight and state-of-the-art… Hold on, please what?! Martin was equally impressed and amazed by all the environmentally friendly aspects the facility could boast, but these were only worth a side note during the tour of the house. Only after specific questions the entire ecological profile of the Falkensteiner Resort Punta Skala was revealed:
The seawater desalination and purification plant results in 100 % (sic!) of the fresh water from Punta Skala coming from the desalination plant. Only in case of malfunction of the two plants, the hotel is connected to the public water supply.
The treated water is used for flushing toilets and watering the green areas.
Seawater is also used for cooling in summer and heating in winter by using heat pumps, which reduces the need for fossil fuels.
The hotel has four charging stations for electric cars, two Tesla and two regular connections.
Impressive, isn't it? Now this would all be well and good, but unfortunately from an event point of view for nothing if there weren't also a number of bonuses for classic MICE events (Meetings & Incentives, Conferences & Exhibitions). Once again, the Falkensteiner Resort Punta Skala has a lot to offer: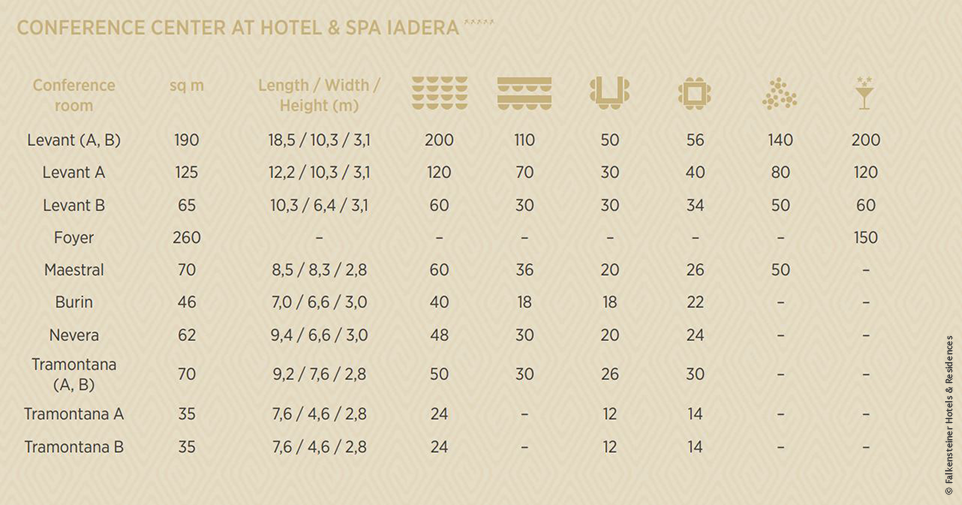 The 5-star Hotel Iadera within the resort** comes with 7 meeting rooms totalling 600 m2. Very good in itself, but with a room height of about 2.80 to 3.10 m not outstanding.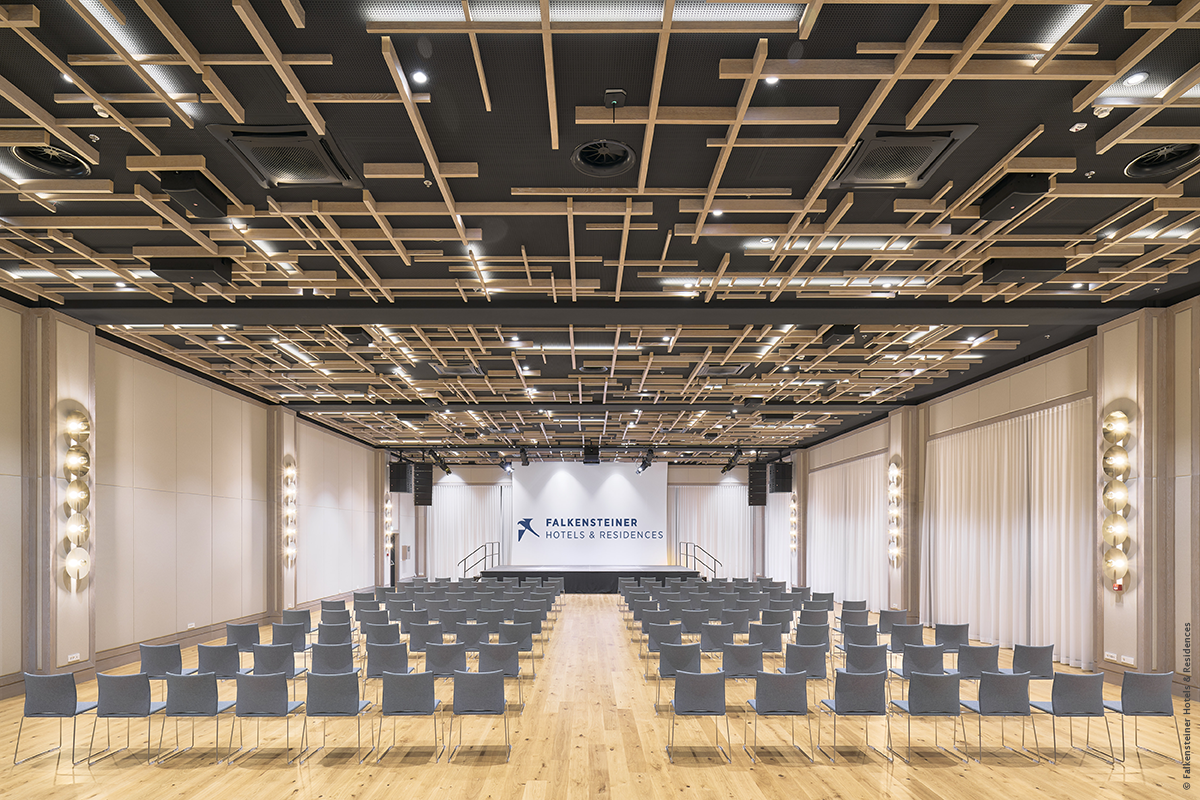 An absolute highlight, however, is the Ventus Event Hall in the adjacent Fortis Club with a room size of 527 m2, a height of 5.20 m, space for up to 473 pax in cinema and 266 pax in parliamentary seating. Furthermore it is equipped with a built-in 15,000-ansi lumen projector and a 7 x 4 m screen.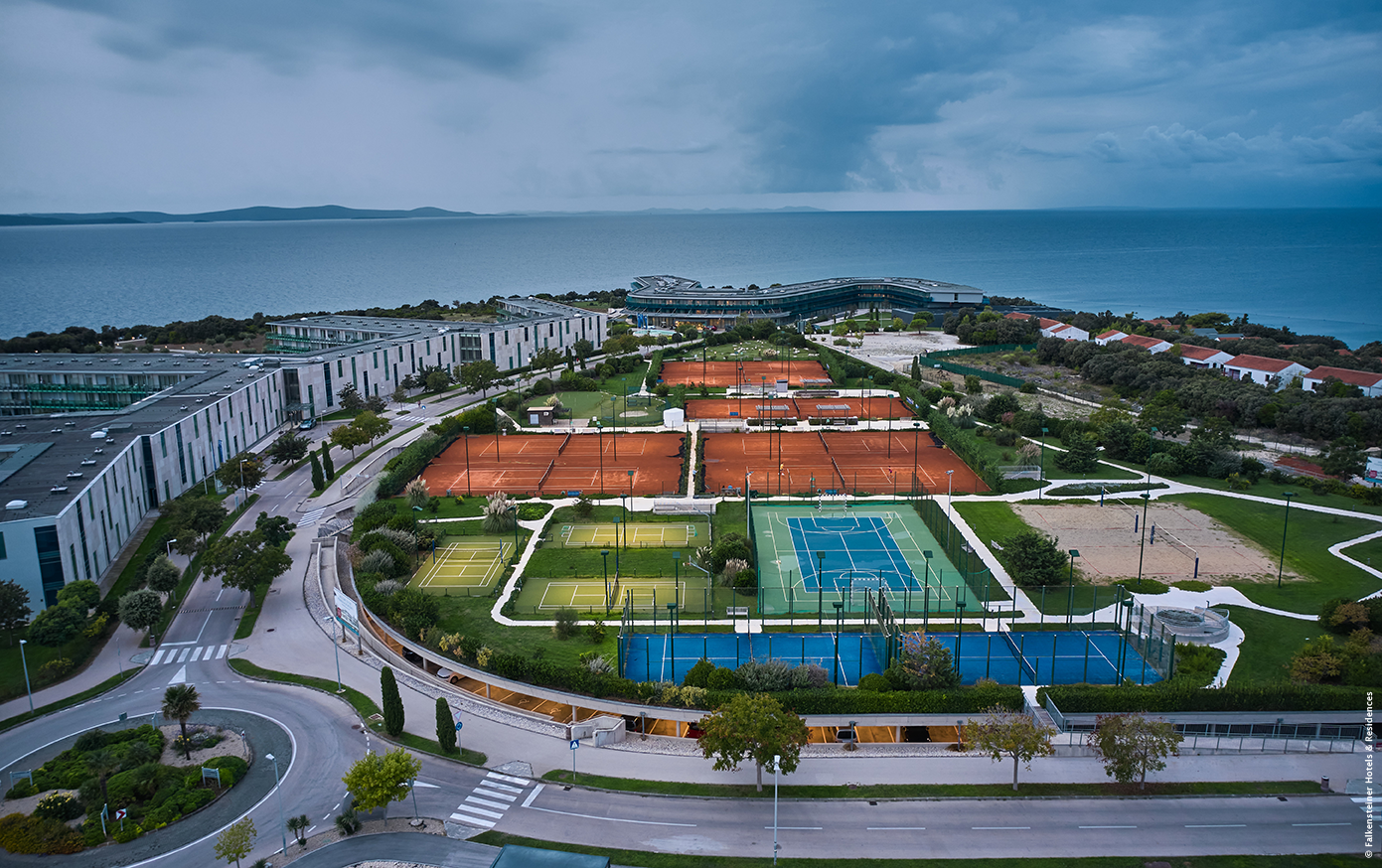 In addition, the Fortis Club has a huge fitness room with a view on the first floor (with personal training and group courses), 7 tennis courts and 3 multi-sport courts, 2 beach volleyball courts, a mini-golf course, a 6,000 m2 spa landscape, a bowling alley and a gaming area incl. team-building packages for MICE groups, 4 restaurants as well as various (snack) bars.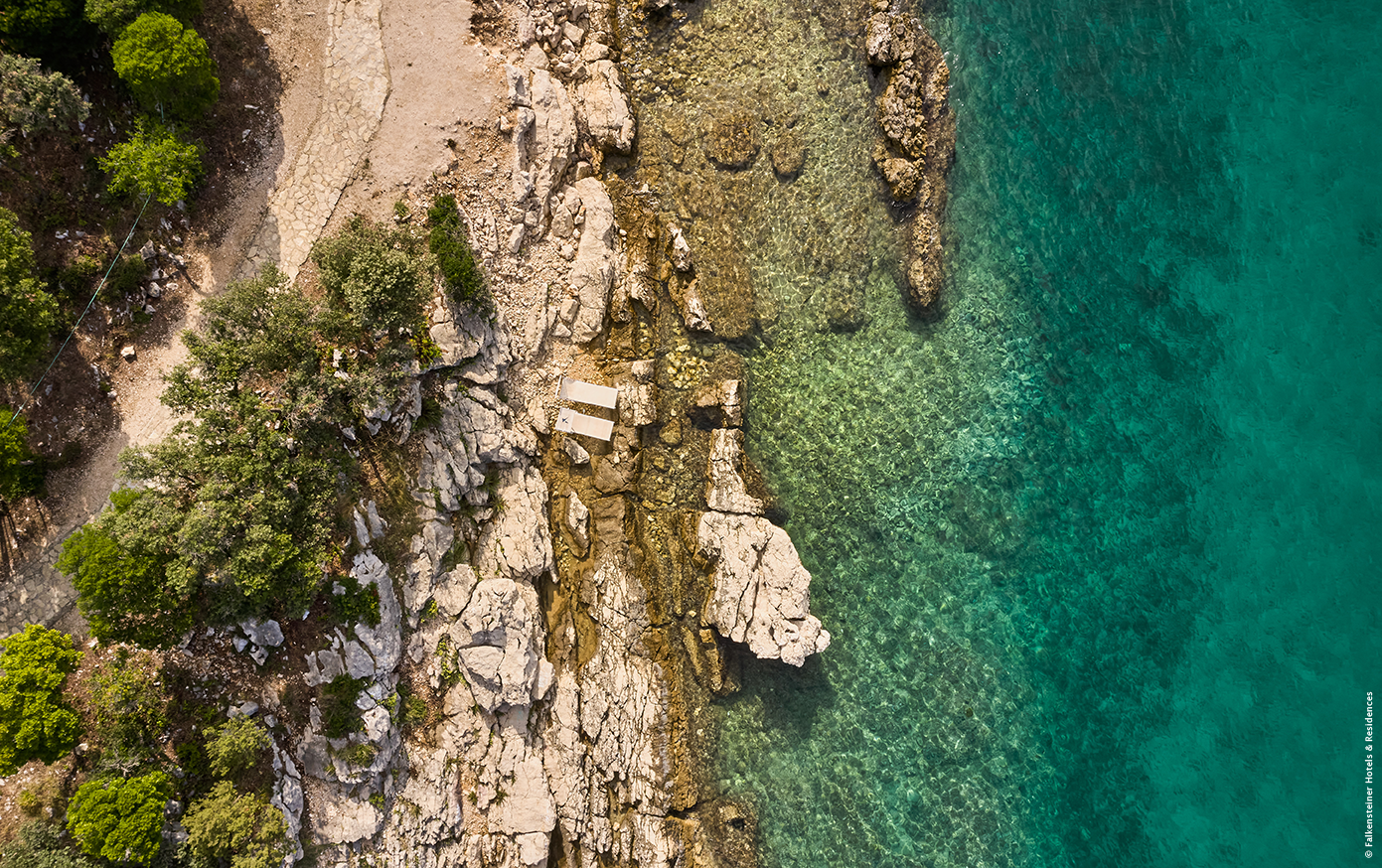 The hotel's own beach with its crystal clear water and a fantastic jogging track along the coast should not go unmentioned…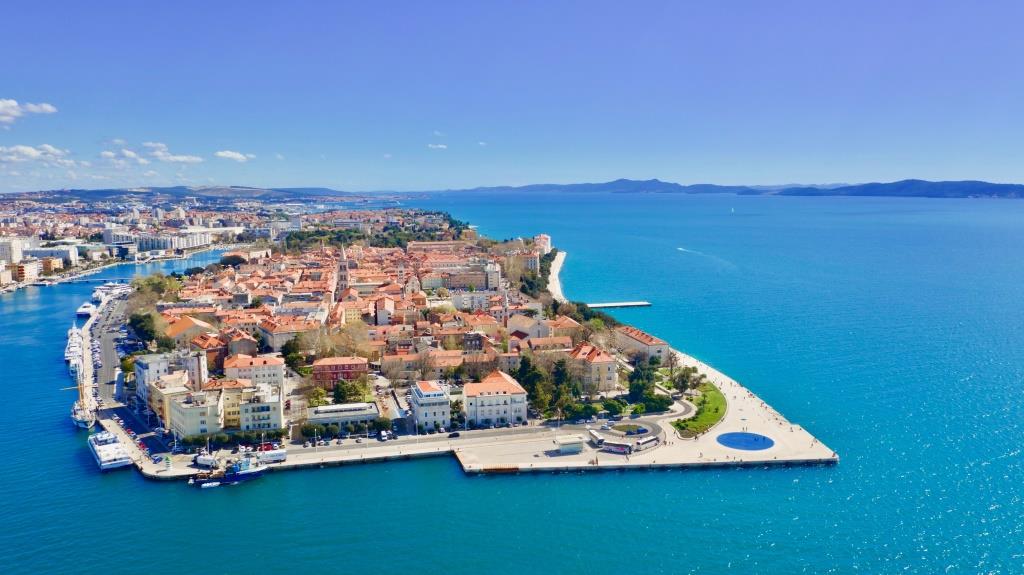 All this, by the way, is about half an hour (28 km) from Zadar International Airport or 12 km from the coastal town of Zadar.
At the moment, we know of no other hotel that gets such an unlimited recommendation – especially for meetings, but also for incentives – as the Falkensteiner Punta Skala. If you would like to read everything again in a brochure, you can find it here.
In the end: The other Falkensteiner Hotels also offer a more or less intense ecological focus and are, above all, usually just beautiful establishments. So it's worth taking a look at the Falkensteiner website. Finally, we would like to explicitly mention the Falkensteiner Hotel Montafon in Vorarlberg, which will open in winter 2022. The hotel relies exclusively on renewable energy sources, regional and organic products, a short supply chain in general and consistent recycling.
But enough of the Falkensteiner promotion now. There are plenty of fish in the sea 😃 and that is why we will dedicate our next newsletter/blog post to other ecologically valuable hotel projects, which are not centred on one hotel/chain but will be more widely spread.
Last but not least: You will find all other contributions to this series in German and English in our blog overview.
We look forward to your feedback, topic requests and questions.
* The following applies to this newsletter as well as its successors: It doesn't claim to be complete and is absolutely subjective. We merely present tourism approaches that we remember particularly positively from our research, previous trips or projects.
** The Falkensteiner Punta Skala Resort includes the 5-star Hotel & Spa Iadera (210 rooms and suites), the 4-star Family Hotel Diadora (230 rooms and suites), the Residences Senia (187 flats, some of which can also be used as rooms for groups when they are not occupied by the owner) and 5 villas (coming soon). This newsletter primarily refers to the 5-star Hotel Iadera, which is the core MICE product in the resort. For a private trip, especially for families, we suggest to have a look at the Diadora – a great family hotel with the same environmental benefits.
Photo credits: Falkensteiner Hotels (for all hotel photos)